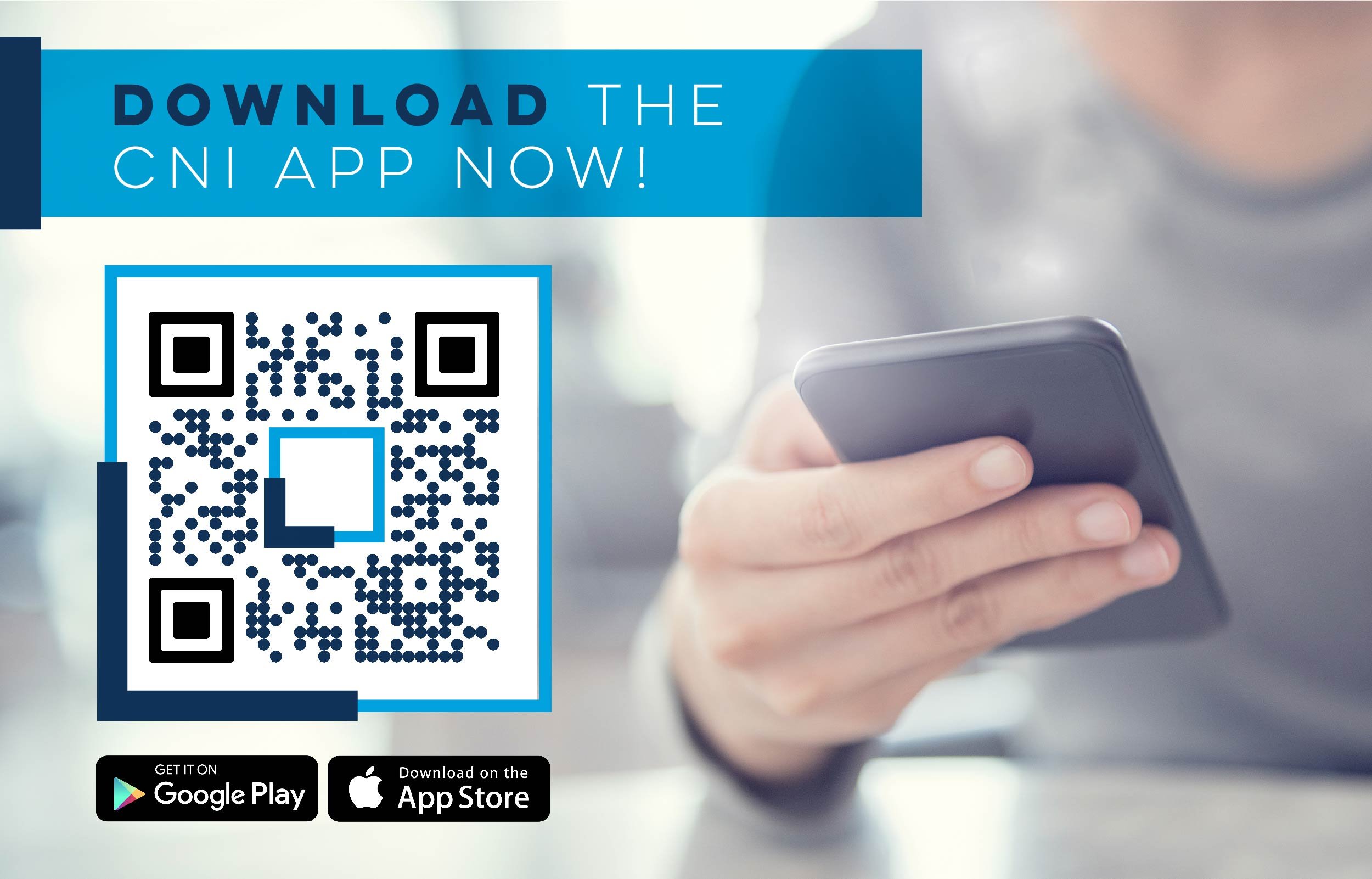 Introducing the CNI Mobile App - the ultimate solution for simplifying your insurance experience. With this cutting-edge app, you can easily take care of all your insurance needs from the convenience of your home or the road. From filing claims to making payments, the CNI App has you covered. Say goodbye to the hassle of managing multiple insurance policies and hello to the ease and convenience of the CNI Mobile App. Let's take a closer look at the incredible benefits of using the CNI Mobile App and how it can make your insurance experience much more enjoyable.
Logging into the CNI Mobile App
To help keep your insurance information as secure as possible, the CNI Mobile App offers a biometric login option to access your account. When enabled, biometric login will allow you to quickly and conveniently log in to the app using your phone's fingerprint or Face ID capabilities.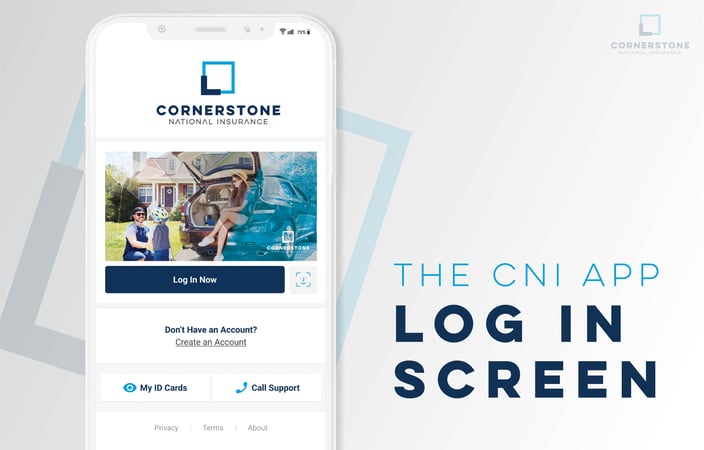 Enable biometric login in your account settings under Password & Security, and then use your fingerprint or facial recognition to log in every time you open the app.
Get To Know Your Policy
If you're new to CNI or just want to brush up on your policy, this is the place for you. We will show you where to find your homeowner policy details and your auto ID cards. Our goal in the Get To Know Your Policy section is for you to understand how your insurance policies work and how the CNI App can help you manage your policies from your phone. So, let's get started!
You will see all the policies under your account on the Policies tab. Tap on any policy to view the details and coverages and access any documents.
When you choose an auto policy, scroll to the bottom to view your Proof of Insurance Card. This can be extremely helpful if you are pulled over or in an accident. You can simply pull up your ID card on your phone and show it to the officer or other parties involved.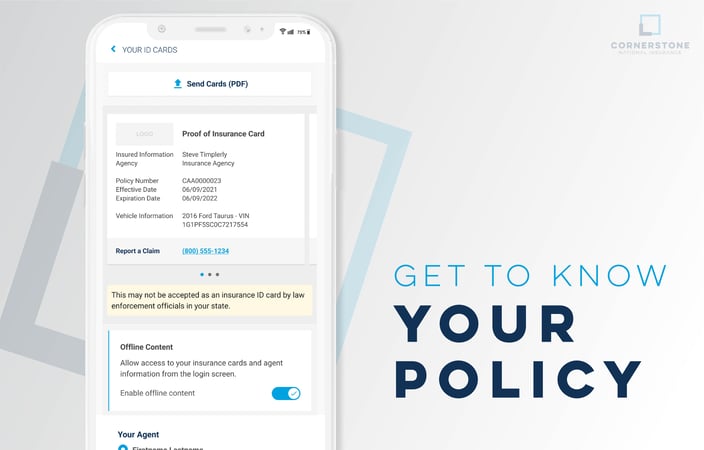 We highly encourage you to select the option to view Offline content. This means you can access your ID card even if you don't have an internet connection.
Additionally, you can always access a digital copy through the app if you lose your physical ID card.
Managing Your Payments
Are you wondering when your next payment is due? Or do you want to set up automatic payments so you don't have to worry about it anymore? Manage all your payments and more on the Billing Tab. You can easily view your payment history and billing information and update your payment method from the CNI App.

Finding Due Payments
From the Billing Tab, you will see each of your policies, how much the next payment is, and when it is due to be paid.
Making A Payment
After selecting Make A Payment, you will be directed to the Schedule A Payment page. Here you will apply the balance to be paid, add or change your payment method, select your payment date, and submit your payment.
Viewing Payment History
Tap on More Billing Details to view all past and upcoming payments.
Claims
Filing a claim with our policyholder app is quick and easy. With just a few simple steps, you can get your claim process started and on its way to being resolved.
One of the key benefits of using our app to file a claim is that it allows you to start the process immediately. Whether you're dealing with a car accident or a broken window, the sooner you begin the claim process, the sooner we can start working to resolve it. This can help speed up the overall time it takes to settle your claim so you can get back to your regular routine as soon as possible.
You'll see the Claims tab at the bottom of your screen no matter where you are in the CNI Mobile App.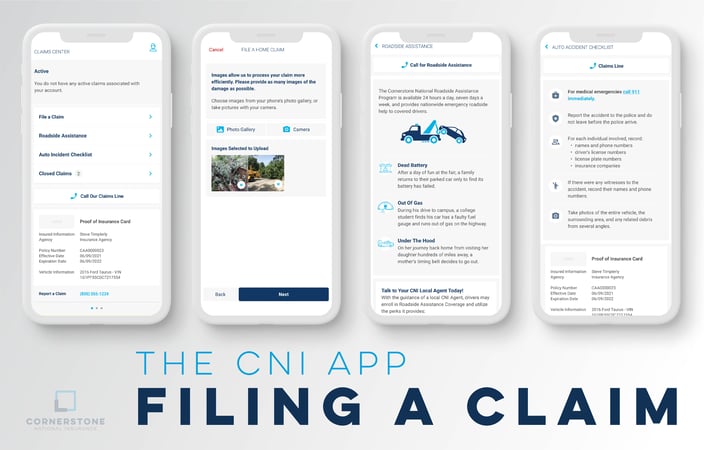 File A Claim
You can start the claims process instantly with the File a Claim button from the Claims tab. Here you will enter important information about your claim, such as the date and description of your loss.
Upload Photos
When you file a claim through the app, you'll be prompted to upload any relevant photos of the damage or loss. Photos can be selected from your camera roll or taken within the app. These photos can be beneficial for our adjusters as they work to process your claim. After uploading images of your loss, submit your claim, and you'll be contacted by your assigned adjuster soon after.
Track Your Claim
Stay informed and up-to-date on the progress of your claim at any time, from anywhere. Here you'll see a list of all your open and closed claims. You can tap on any claim to view more details, including the claim's status and relevant notes from our adjusters.
Roadside Assistance
The Cornerstone Roadside Assistance program is designed to help drivers when they need assistance on the road. With our policyholder app, you can easily call for roadside assistance 24/7 with the touch of a button. From there, you can provide details about your location and the assistance you need. Our team will dispatch a service professional to your location as quickly as possible, whether you need a tow, a jump start, or a gallon of gas.
Auto Accident Checklist
If you are in an accident, use the app the access our Auto Accident Checklist. This will help ensure you gather all the information needed for our claims team at the scene of the incident. This page will also display your Proof of Insurance Card to share with other involved parties.
Contact Your Agent
Are you tired of Googling your insurance agent's contact information or digging through old emails to find their phone number? With the CNI Mobile App, accessing your agent's contact information has never been easier. Need to ask a question, request a change to your policy, or simply check in with your agent? You will find their contact info directly on your home page.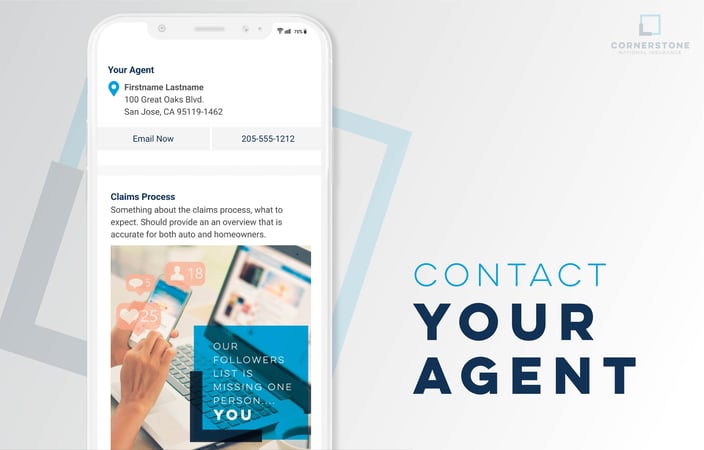 Download the App Today!
The CNI Mobile App offers a wide range of convenient and valuable features to help our policyholders manage their insurance needs on the go. The ability to file and track claims, schedule and manage payments, and download auto ID cards to be viewed offline makes it easy to stay organized and informed throughout your insurance journey.
To access the app, simply create an account by using your POLICY NUMBER, EMAIL & ZIP CODE, then follow the instructions in the app.