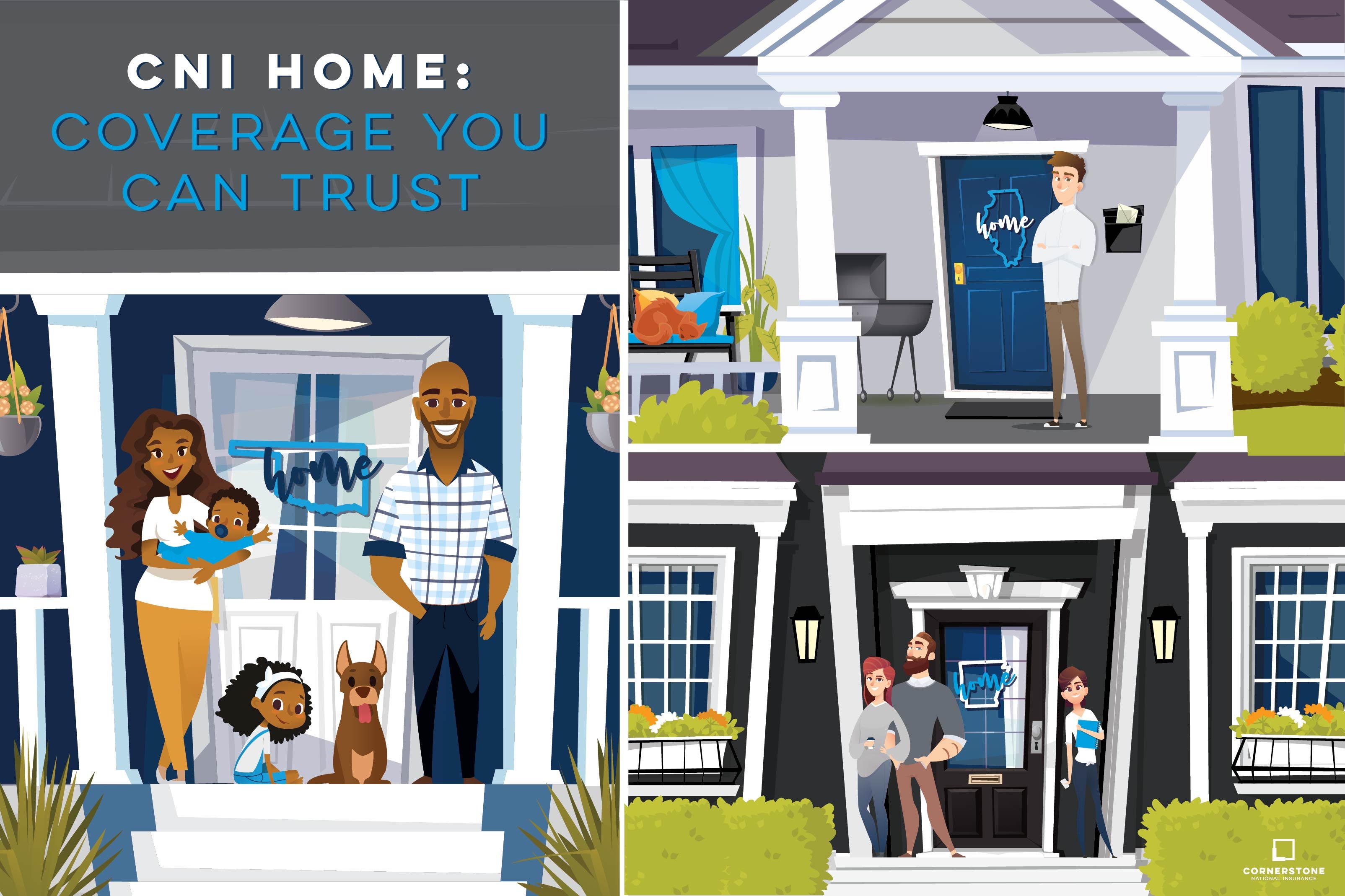 We're excited to let our friends in Oklahoma, Arkansas, and Illinois know: we have officially launched our long-awaited homeowners product-line for you to conveniently package with your Cornerstone Auto policy!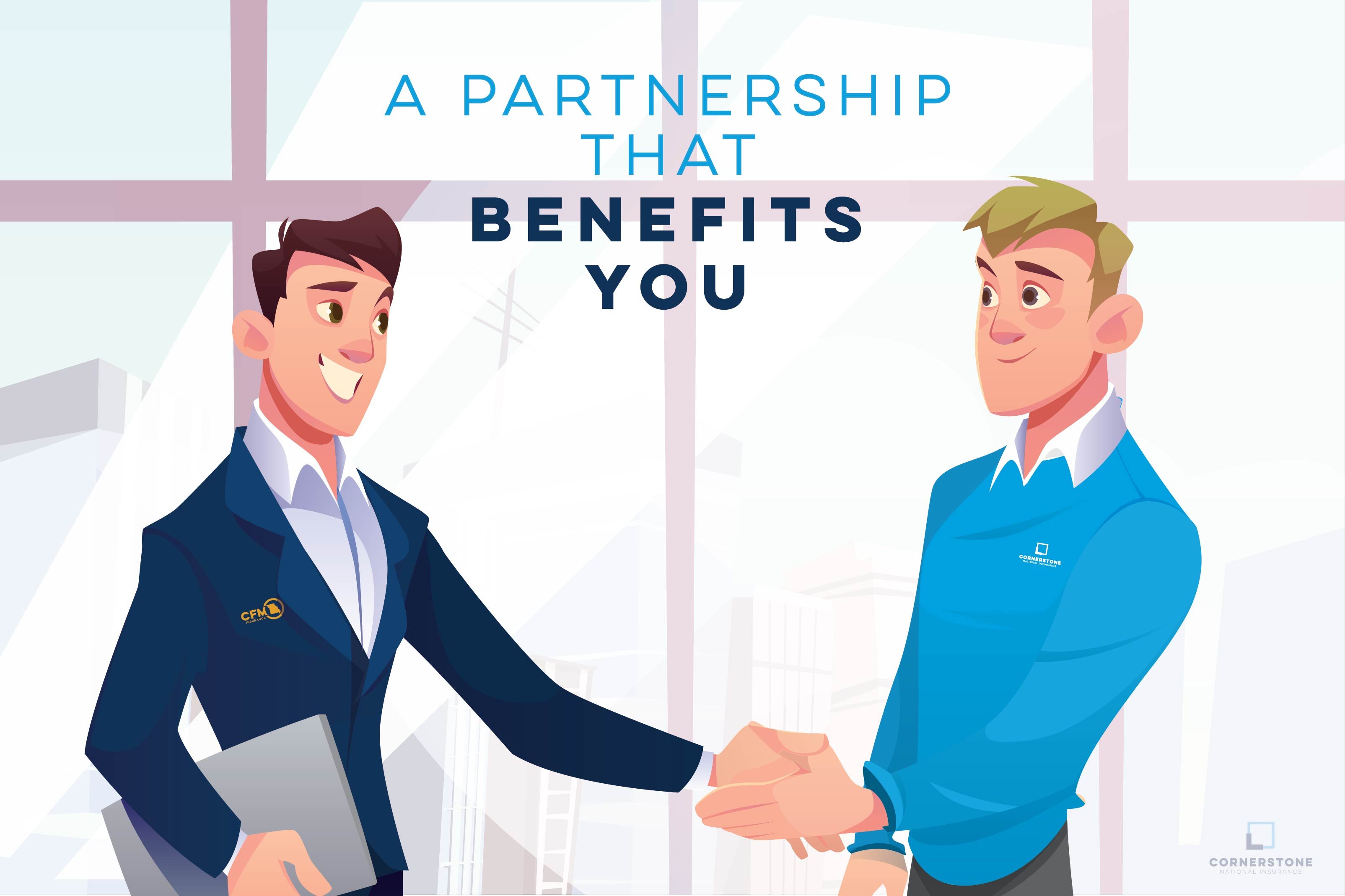 Sure, we may be new to the homeowners insurance scene, but our parent company certainly isn't.
In 2019, Cornerstone was acquired by a reputable Missouri mutual insurance company: CFM Insurance. Headquartered just down the road in the small, charming town of Concordia, MO, CFM's leaders saw potential in all that the Cornerstone brand could be, given the proper strategic guidance. So, they welcomed us with open arms into their insurance family and started brainstorming a well-thought-out plan to build a more prosperous future for our team: policyholders, agents, and staff.
Since then, after countless hours of the ongoing collaboration between two very knowledgeable underwriting and management teams, CFM - a 152-year-old company - has helped enhance and expand our product offerings for the better. Not only has our auto product improved, but we're now able to provide our customers with a customizable, competitively priced homeowners insurance line they can trust. This recent development is huge because we've only ever been able to provide auto insurance, until now!
So, what's covered by the new CNI Homeowners product?
Your Home - In the insurance world, we refer to your home as the primary dwelling. Your dwelling coverage is the portion of your homeowners insurance policy that applies to the cost of rebuilding and/or repairing your property in the event that it is damaged or destroyed by a covered peril. Covered perils include weather events (wind, hail, or lightning) and fire.
Your Stuff - Known to your policy as personal property or contents, your possessions (furniture, electronics, or clothing) would be protected by your homeowners insurance if they were damaged or destroyed by a covered peril.
Did you know? Your home insurance covers your stuff, whether it's at home or somewhere else. Say you teamed up with a friend on a work project last Friday and left your laptop on their desk - oops. Over the weekend, their office building gets broken into, and your beloved MacBook Pro got swiped. Luckily, it's covered up to the amount your policy limits under your Personal Property Coverage.
If your personal property is worth more than the standard limit on your homeowners policy, you can have additional coverage added for those specific items (fine jewelry, coin collections, art, etc.). We'll discuss this coverage further, a little later on.
Other Structures - If your property has other buildings on it, aside from your home, your policy will refer to them as related private structures. Your homeowners insurance will cover the cost of rebuilding or repairing those structures if they're damaged or destroyed by a covered peril. This includes detached garages, sheds, and other additional buildings (excluding any that are used for farming or other business operations) on your property - even your fence.
Personal Liability - Accidents happen. The personal liability section of your policy protects you or covered family members - named insureds - living at your property, against lawsuits for injuries or property damage, up to a certain amount. For added protection beyond your policy limits, adding a Personal Umbrella to your CNI Homeowners insurance could be beneficial.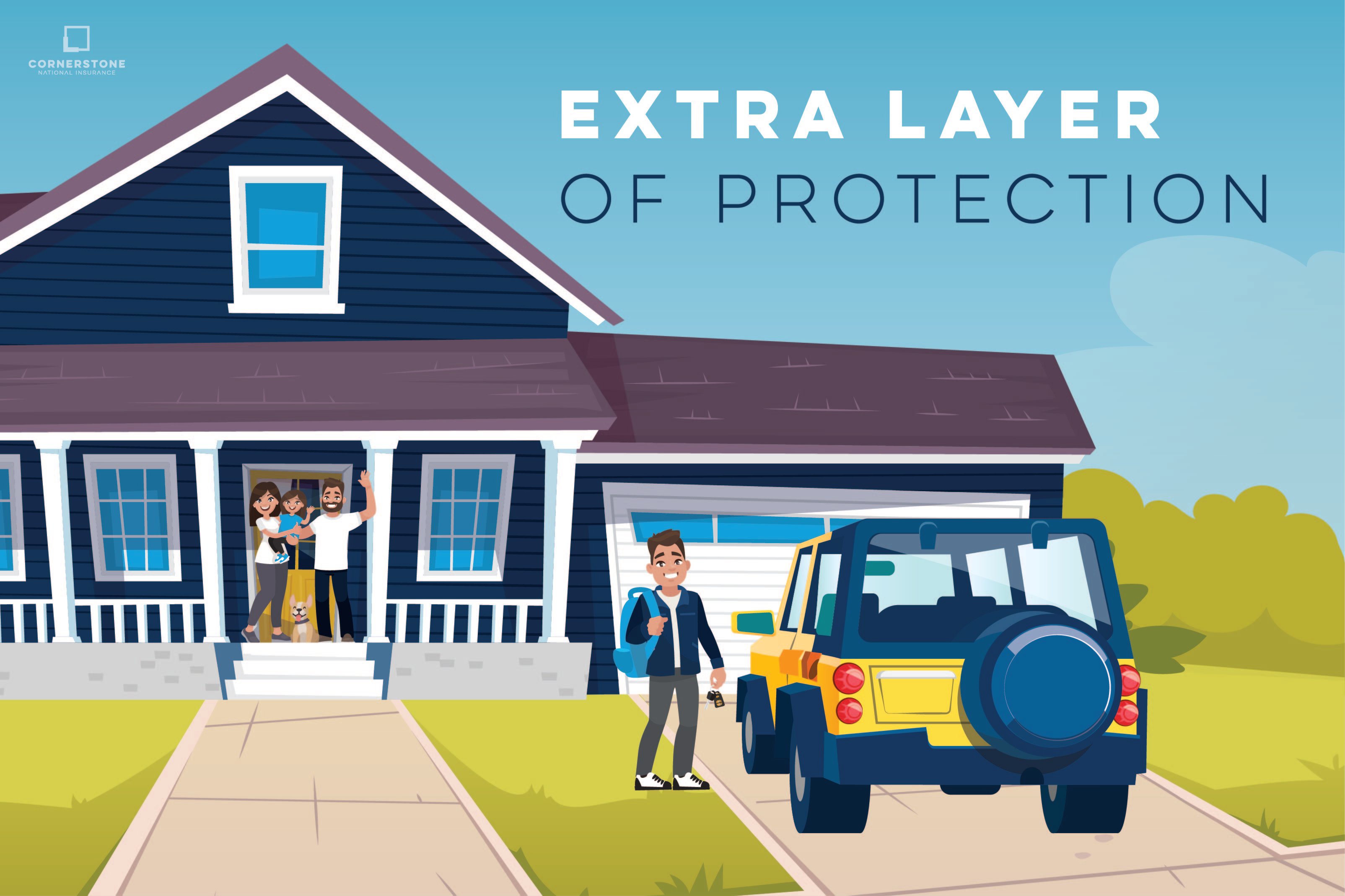 How a Personal Umbrella Policy works: When you've exhausted the coverage provided by your home or auto policy, your personal umbrella policy - which is a stand-alone policy separate from the others - kicks in. This beneficial and extremely affordable coverage helps you avoid paying high out-of-pocket costs if you're found liable on a large claim.
Umbrella insurance coverage also extends to other members of your household, such as your spouse and children. That means if you face a claim scenario where your child or spouse is at fault, your umbrella insurance policy can protect them. As you could imagine, this coverage is especially valuable if you have a teen driver in your household.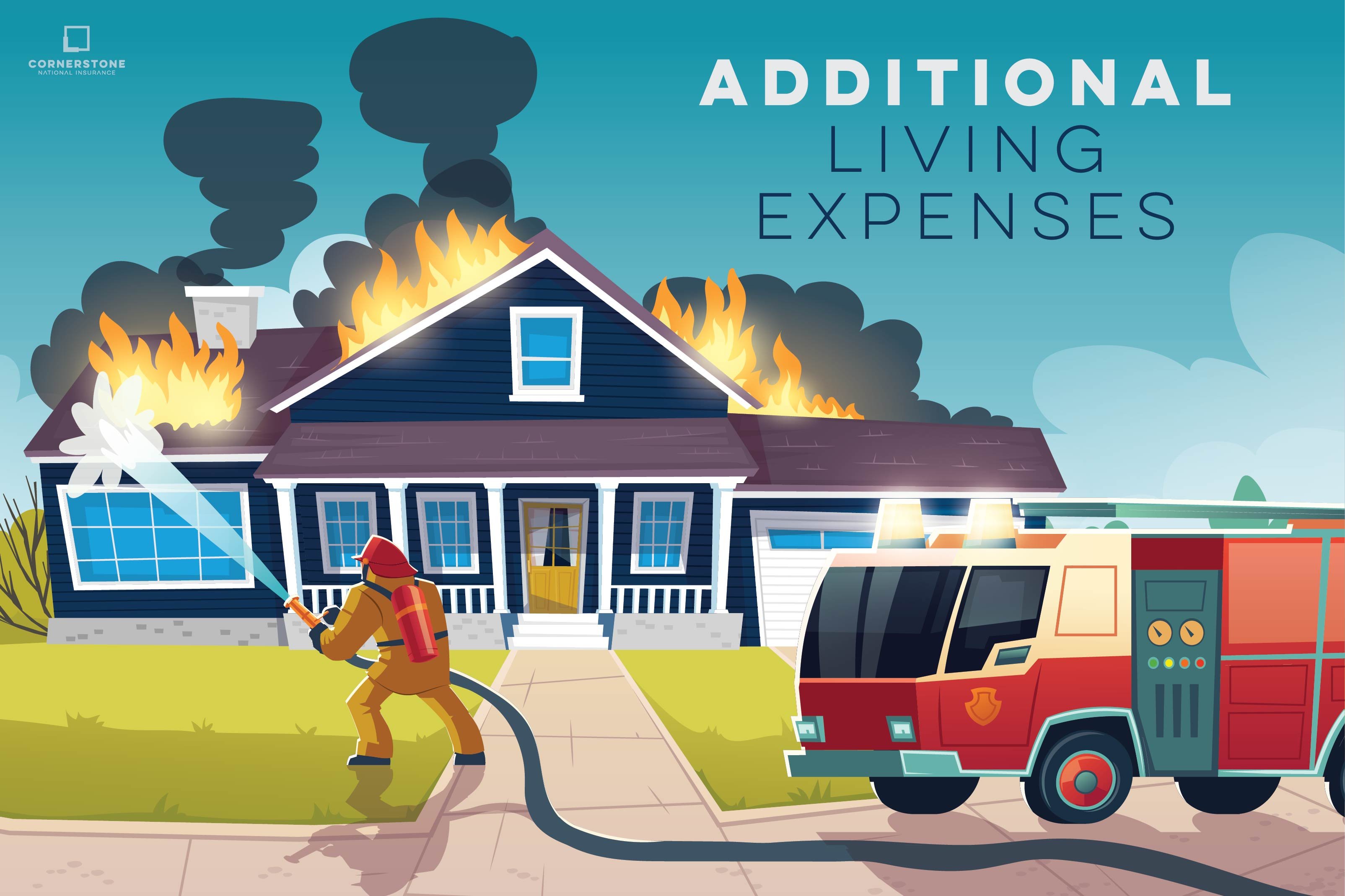 Additional Living Expenses (ALE) - This helpful coverage saves the day when you're unexpectedly displaced from your home due to a loss by a covered peril on your homeowners policy. For example, if your home gets damaged or destroyed by a fire and is deemed uninhabitable, your Additional Living Expense Coverage will reimburse you for reasonable expenses incurred during the time period that you are away from your destroyed home (hotel stay, food, and other personal items), up to a certain amount and with certain restrictions.

What's not covered by the new CNI Homeowners product?
Intentional Harm/Injury - Because it is illegal to intentionally harm someone else or their property, it would therefore be illegal for an insurance company to pay for those crimes. As mentioned above, your personal liability coverage on your homeowners policy will pay for unintentional accidents or injuries, up to a certain amount.
Business Pursuits - Because they pose a greater liability risk, home-operated businesses with multiple employees or frequent visitors typically aren't covered under a standard homeowners policy. This includes common home business ventures like petting zoos or u-pick gardens. The home-based business would need to be insured under a commercial insurance policy for there to be adequate coverage.
Earthquakes/Floods - In most states, including Missouri, earthquakes, sinkholes, and other earth movements are not covered by a standard homeowners insurance policy. However, earthquake coverage can be added to your policy as an endorsement for an additional cost. Flood insurance must be purchased as a separate policy and is available only through the government-run National Flood Insurance Program.
Service Lines/Equipment Breakdown - Unfortunate circumstances like a sewer backup or a furnace unexpectedly breaking down in the dead of winter are not covered by a standard homeowners policy. But those pricey (and aggravating) problems can be covered under your CNI homeowners insurance when you add Service Line Coverage or Equipment Breakdown Coverage to your policy. For low annual premiums, you can save yourself thousands in potential repairs down the road.
Vermin - Any damage to your home caused by those nasty little creatures we all love to hate - mice, bats, insects, raccoons - won't be covered by your homeowners insurance.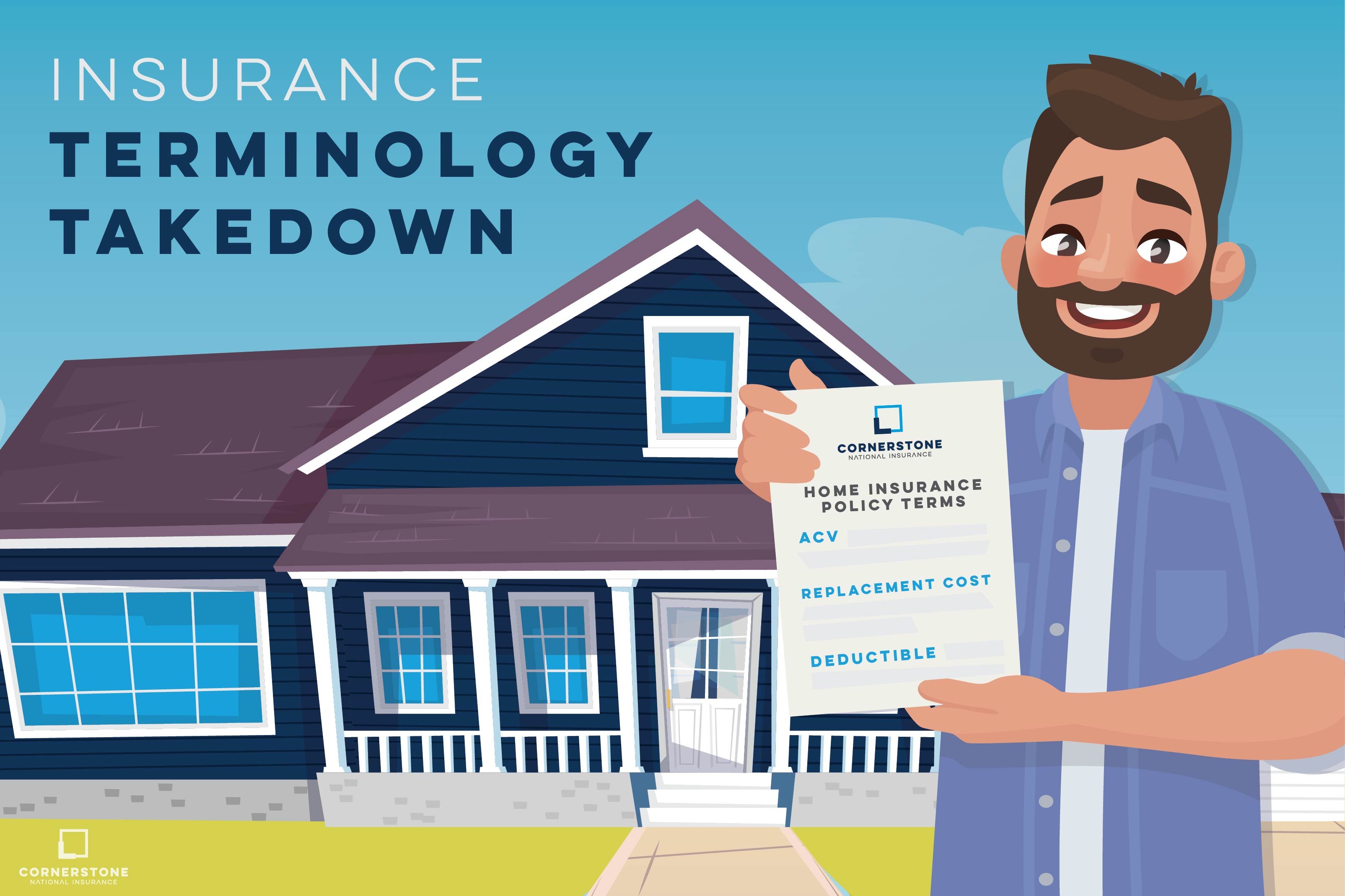 Now that you know the coverage basics, let's talk terms. We get it - insurance lingo can be confusing. But there are some important terms in your policy that make a big difference when it comes to your coverage. And that, in return, will make an impact on your claim outcome if you ever need to start that process. It's always wise to read through your coverage with your agent so they can answer any and all of your questions before your policy is issued. At the end of the day, there's nothing we love to see more than an insurance-smart community!
Here are some insurance terms we think you should jot down in your mental "Homeowner Dictionary" ASAP.
Actual Cash Value (ACV) - The initial payment reimbursed to a policyholder after they file a claim. That payment covers the value of the damage the day of the loss, after depreciation is withheld. With ACV policies, you must only expect to get paid for what your items or property are worth today, not what it cost when you originally bought it or what it will cost to replace it now.
Replacement Cost - The amount of money it takes to replace what's been damaged in a claim, less the deductible. Insurance companies calculate replacement cost as the initial amount you paid for the item. If the item you bought is no longer available, your insurance company will replace it with a comparable item. For example, if your Dell computer gets destroyed in a fire and Dell no longer makes computers at the time of your loss, you would be given a comparable brand that has the same features and price as your destroyed Dell.
Depreciation - Over time, your home and most of its contents lose value due to a variety of factors like age and natural wear and tear. This devaluation is referred to in the insurance world as depreciation. When you file a claim on a replacement cost policy, depreciation is the amount that is withheld from the claim payment and can be recovered once the work is completed. If you have an ACV policy, the depreciation that is withheld is non-recoverable.
Deductible - The portion of an insurance loss (in dollars) paid by you, the policyholder. When a claim payment is issued, it will have your deductible subtracted from the check. Deductibles can range anywhere from $500 to $10,000. Some homeowners policy types require a base deductible, but in many cases, it can be raised or lowered by the policyholder. Choosing a higher deductible results in lower premiums.
Endorsement - Extra coverage that can be purchased to provide protection above and beyond what's provided in the homeowners policy. For example, if you wish to have higher coverage on those important, valuable items like jewelry, fine art, or coin collections, you can have those things protected by an endorsement in addition to the base amount included with your homeowners policy.
Exclusion - Specific situations, conditions or circumstances that are listed in your homeowners insurance policy as not being covered. For example, if a routine inspection of your property finds certain things have been neglected, they may be excluded from a portion of your policy's coverage.
Inflation Guard - Over time the value of your property will change due to inflation, which could leave a gap between your coverage and the cost to rebuild your home today. That's where inflation guard coverage comes in, protecting the costs associated with the rebuild of your home. It automatically increases the amount of insurance on your home a certain percentage each year to account for the cost gap caused by inflation.
Premium - The amount of money an insurance company charges, based on a given rate and policy type, to provide protection for your home and its contents for a specified period of time. Typical homeowners insurance premiums are charged annually, falling on the renewal date of the policy, but different payment plans can be arranged (monthly, quarterly, and/or semi-annually).
---
Standard homeowners coverage explained - check! Insurance terminology takedown - check, check!
Now, take a look at this easy-to-understand breakdown of the different Cornerstone Homeowners policy lines, designed with every home in mind, so you can get a better idea of where yours may fit. Remember, your home's CNI policy is totally customizable and meant to be built around its unique coverage needs.
Did you know? As mentioned earlier, you can now package your home policy with your CNI auto policy. The more Cornerstone policies in your insurance family, the merrier (and more affordable). For more information on our new Package Program and the Multi-Policy Discount that comes with it, contact your trusted local CNI Agent.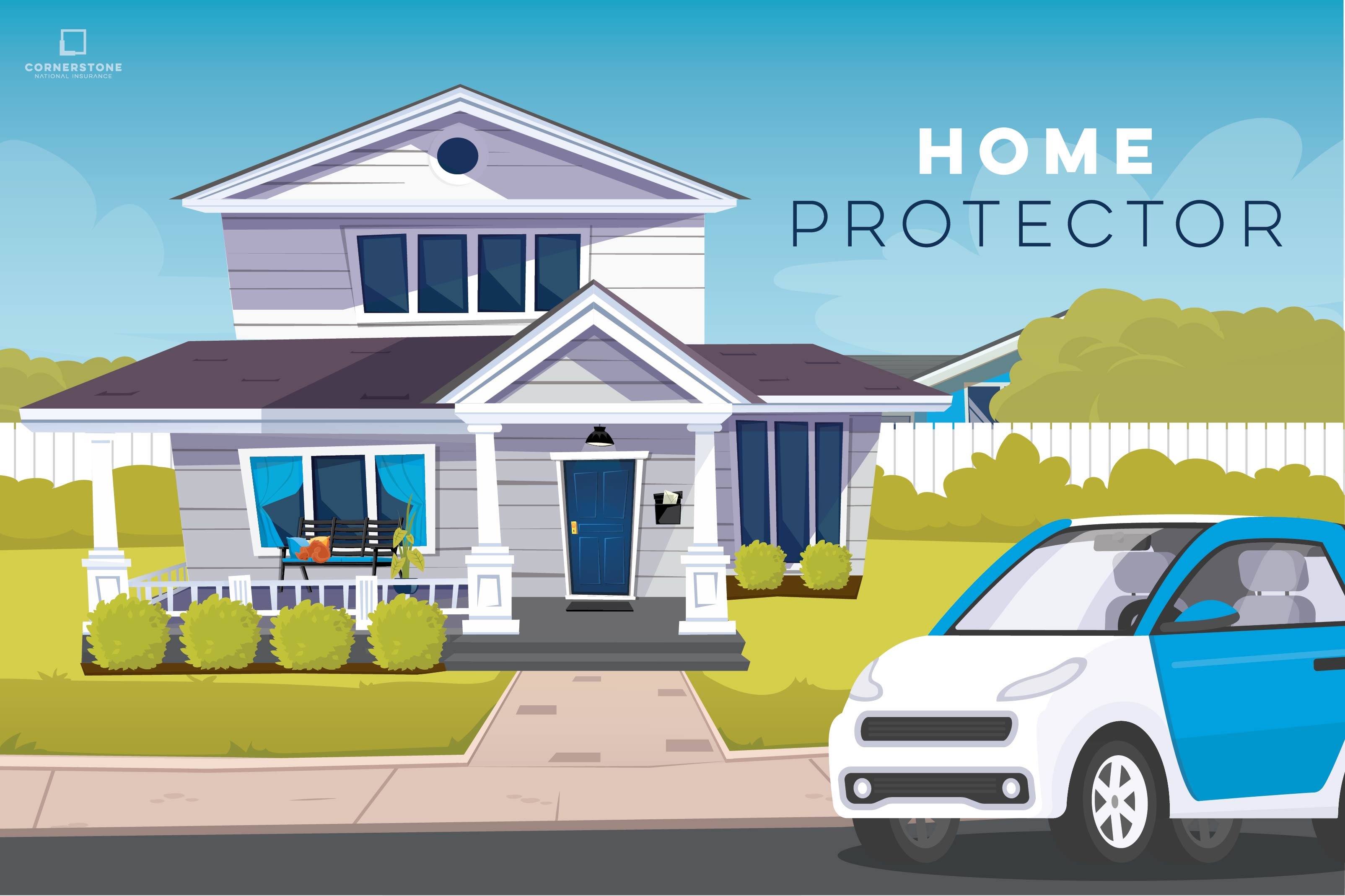 The Cornerstone Home Protector offers excellent coverage for older homes that are well maintained. Some of the general qualifying factors for this program includes a minimum replacement value of $60,000, as well as the home having current wiring, heating/cooling, and plumbing. For more information about this policy type, and to see if your home qualifies, you'll need to contact a CNI agent.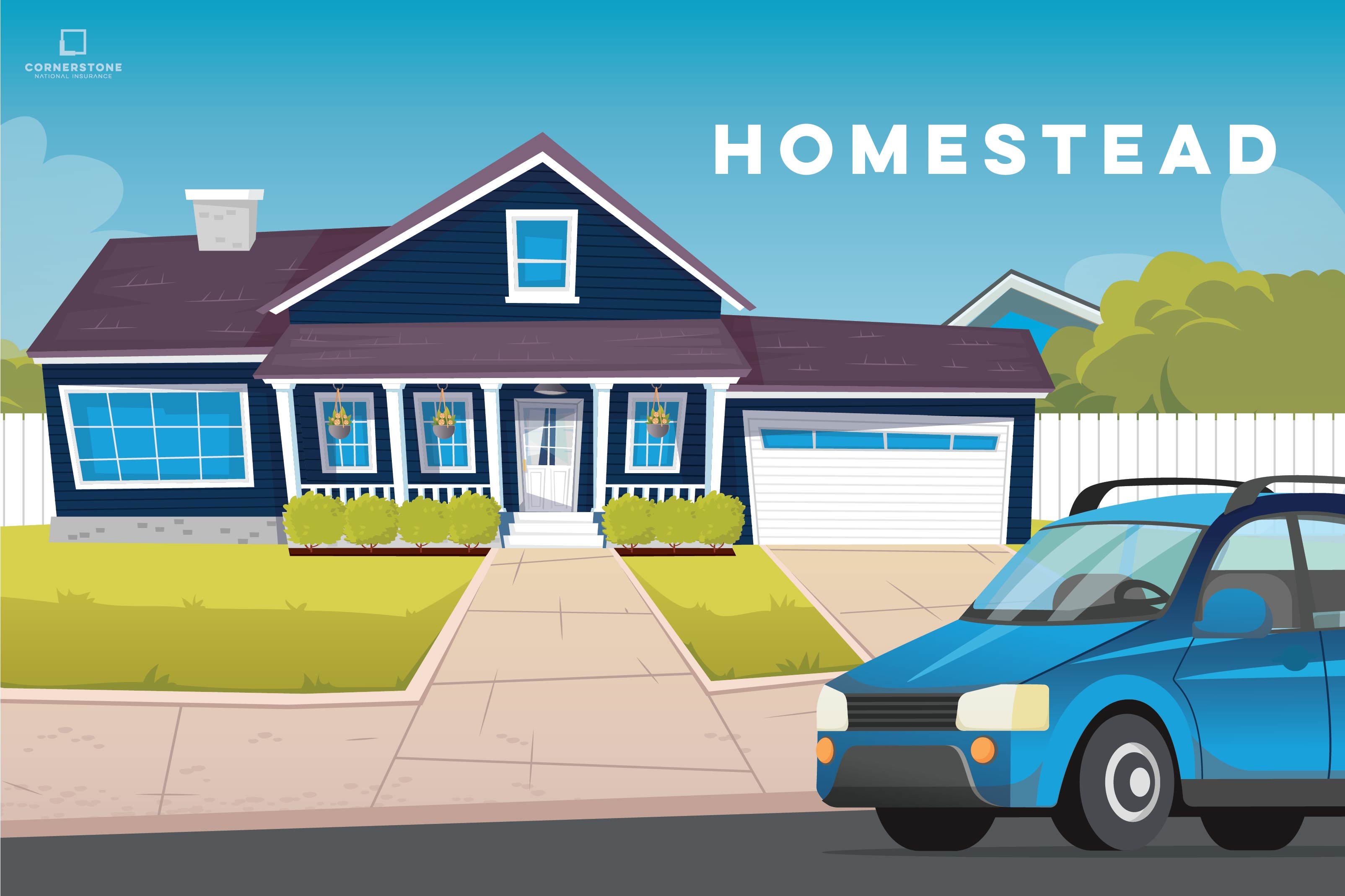 The Cornerstone Homestead policy is ideal for well-kept, newer homes. A couple of key qualifying factors for this program includes a minimum replacement value of $100,000 and the home having been built in the last 40 years or recently updated. For more information about this policy type, and to see if your home qualifies, reach out to a CNI agent.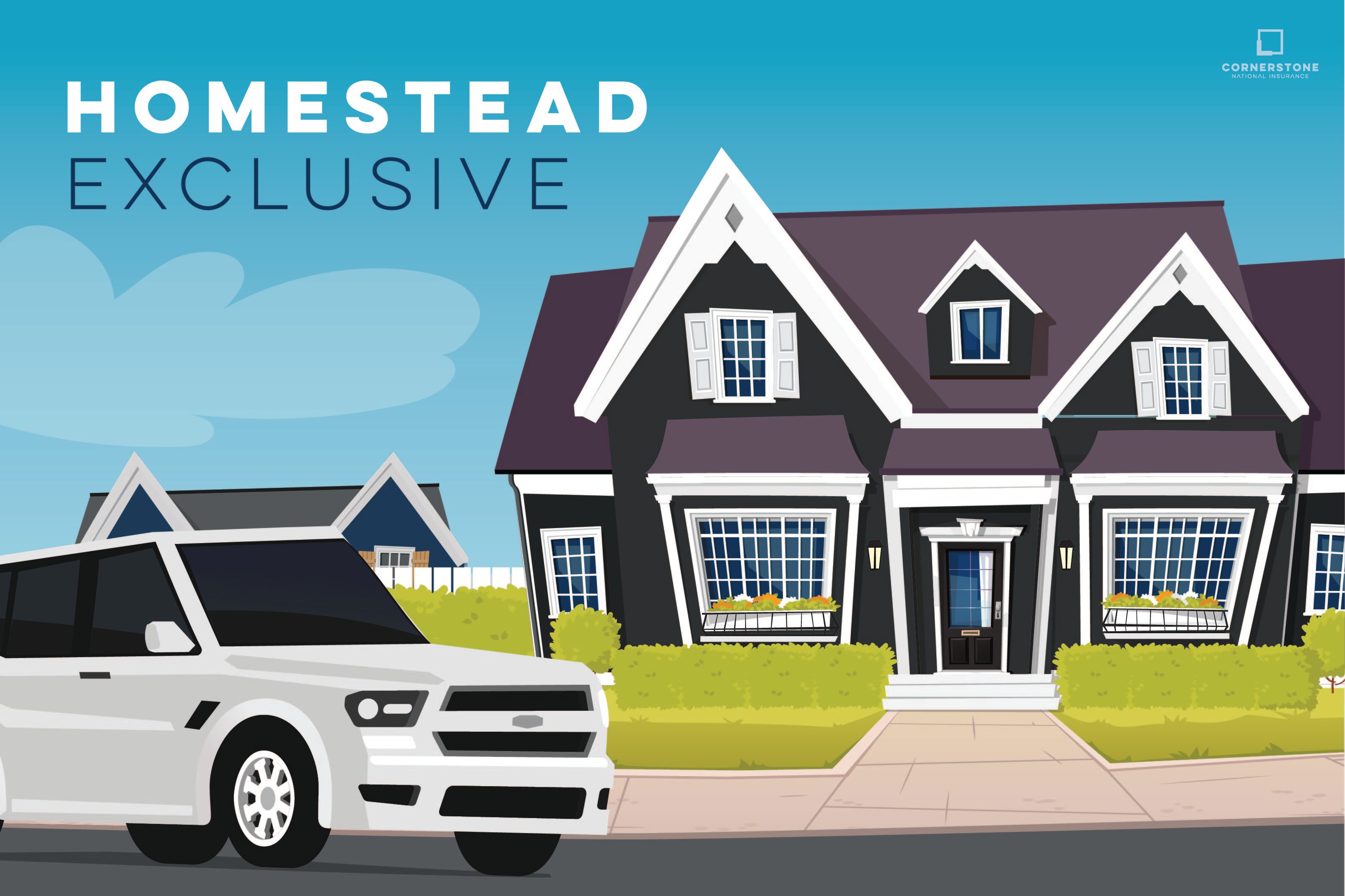 The Cornerstone Homestead Exclusive is our top-shelf product for newer homes. A couple of key qualifying factors for this program includes a minimum replacement value of $250,000 and the home having been built in the last 25 years. Again, if you think your home may qualify for this program, make sure and give a CNI agent a call.
---
Congrats! You're basically a homeowners insurance expert.
Now, are you ready to build a tailored-to-you home insurance policy and discover what awesome discounts you may qualify for? Trust one of our local, independent agents who are dedicated to finding you the best protection at a great price. Click the image below to get started.