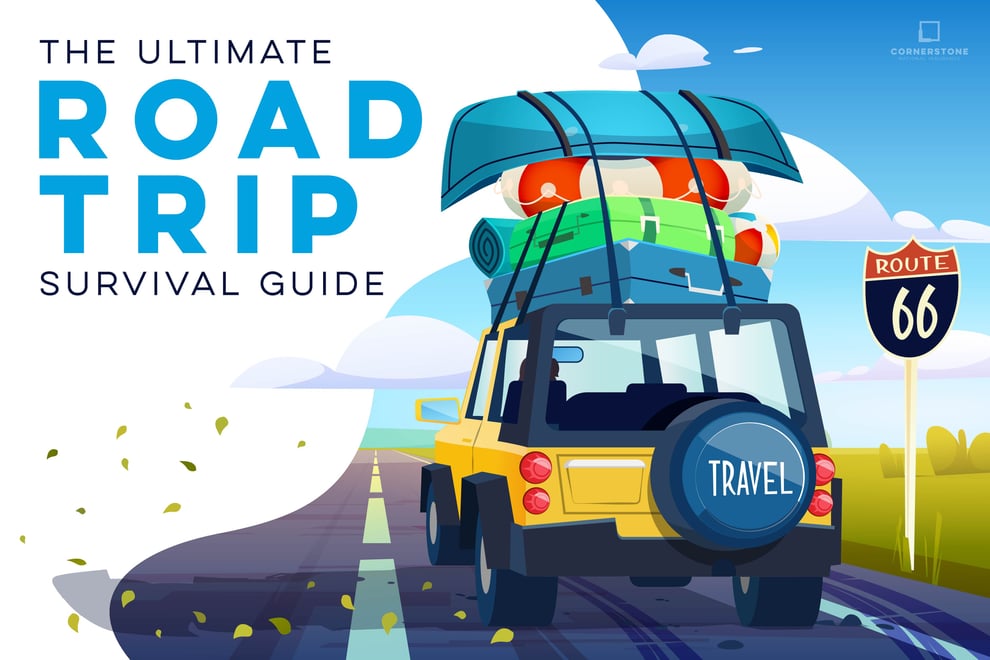 There's just something about warm weather, newly lush + green landscapes, and unused vacation time begging to be taken advantage of that call for one thing: a summer road trip!

Let's face it; traditional vacations can quickly become a huge source of stress. From booking flights, hotel rooms, and rental cars to pricing all the extra activities you plan to do on location, a "relaxing" vacay can be anything but. Instead of driving yourself crazy with all the detailed organization that goes into this style of "getaway," why not opt for a road trip across the good 'ole USA?
How about we cover all the bases of your ultimate road trippin' guide to ensure your summer adventure behind the wheel is a home run? Step one, map out the route!
Map Out Your Failproof Road Trip Route
When you think of the classic American road trip, you probably picture that famous Route 66 sign. Does a trek through the desert intrigue you? Or maybe a journey through the mountains is more your speed. Of course, there's nothing better than a drive to the coast. You really can't go wrong with all of the scenic destinations here in the USA, but quite a bit of strategic planning should go into your route, so you get the best views along the way. Here's what we recommend doing before you gas up the car and take off.
Organize your ideal road trip experience with the help of these online planners and apps.
Pro Tip:Don't forget the music! Every epic road trip has to include an equally epic playlist.Tune into your favorite music, queue up curated playlists, and listen to podcasts as you cruise with the Spotify app. Get Spotify Premium for $9.99 a month, so you can listen to music without ads and download playlists for offline listening. Available on iPhone and Android.We'll give you a jumpstart on some playlist inspo for your long journey ahead. All 10 playlists below are linked:

Road Trip|Classic Road Trip Songs|Indie Rock Road Trip|70's Road Trip|Family Road Trip|Classic Oldies|Summer Road Trip|Pop Road Trip|Country Mix|Rock Road Trip
Determine Your Destination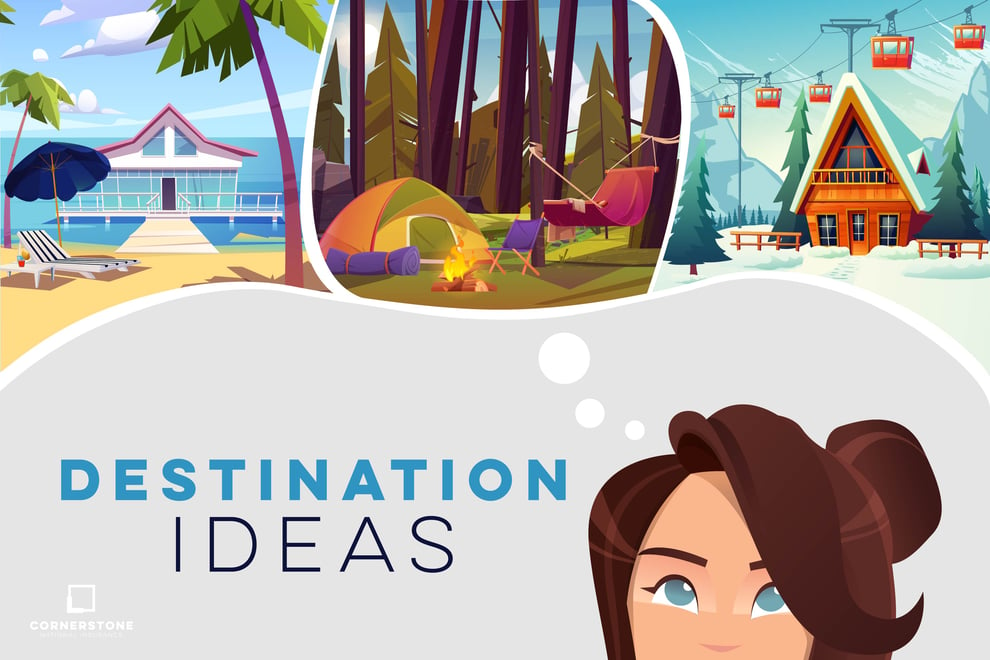 What better way to experience the vast array of stunning coastal views, breathtaking valleys, rugged cliffs, lush forestry, and limitless dessert terrains than to be free behind the wheel? Check out 10 of the most popular scenic drives right here in the USA, according to VroomVroomVroom. Spoiler alert: all of them are incredible, and there are absolutely no wrong choices, folks.
Pro Tip: If you can, squeeze at least one stop at a National Park into your road trip itinerary. Our home country is filled with many exciting and beautiful places, but perhaps none shine quite as brightly as our national park system. Want to climb massive white sand dunes? We have that. Marvel at glaciers? Check. Hike across majestic mountains? Take your pick. Admire the power of incredible geysers? No problem. Whatever kind of outdoor wonder you have in mind, you can find it at one of our breathtaking National Parks.
Give Your Car A Check-Up Before You Hit The Open Road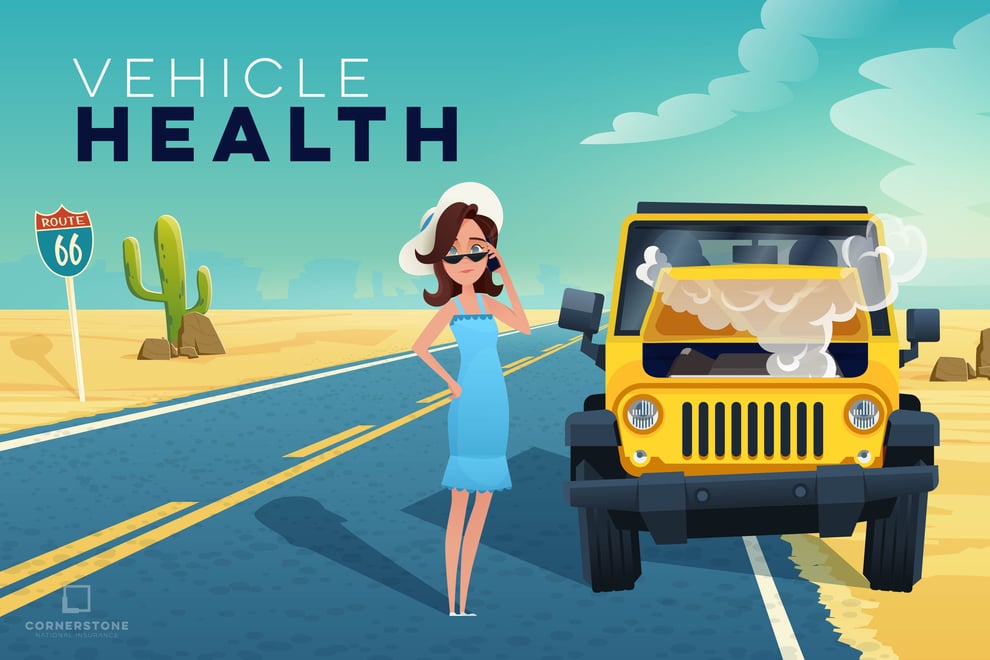 Sure, you take your car in for regular maintenance with your trusted mechanic, but if you're planning on racking up the miles on a long road trip, you should schedule a quick, impromptu inspection. Your mechanic will be able to spot any pressing concerns and help get your car prepped and ready for the trip.
Here are five items you should have your mechanic check before your road trip:
Tires Check
Brakes Check
Air Conditioning Check
Fluids Check
Adjust the Steering & Suspension
Tires Check
A tire blowout is one of the most common problems that can *pop* up during a road trip. You'll need to ensure that there are no punctures or alarming damage to your tires that could cause them to lose air. In addition, if you have worn tires, this can make it more difficult to stop your car. This is especially true in rain or snow.
Brakes Check
Worn brake pads can also make your trip significantly more dangerous because they will prevent you from stopping your car promptly. It is best to replace your brake pads at anywhere between 25,000 and 70,000 miles.
Air Conditioning Check
Unlike brakes check or tires check, a malfunctioning air conditioning unit will not necessarily make your trip more dangerous. However, it will undoubtedly make it more miserable, especially if you are traveling during the summer months. You may have clogged air filters or a bad fuse that is causing the unit to malfunction. If the air in your A/C unit is not blowing as strong as it should, you should take your car to a mechanic for inspection.
Fluids Check
One of the most common regular car maintenance items is an oil change. All drivers understand the importance of regular oil changes. However, there are other fluids you should check before you set out on a road trip.
These include:
Power steering fluid

Brake fluid

Transmission fluid

Windshield washer fluid
Adjust the Steering & Suspension
Your car's steering and suspension system is one of the most important elements that will determine whether your ride is smooth as you reach your destination. If you have any loose steering parts or damaged shocks or struts, this could cause problems on your trip.
CNI Auto Offers Drivers Roadside Assistance: Instant Relief When Our Customers Need It Most
If anything does happen to go awry on your road trip, your CFM Auto policy provides Roadside Assistance. Coverage of $100 per incident is available if the phone number used for Roadside is called at the time of your emergency. This service includes towing, battery jumpstart, gas delivery of up to two gallons, flat tire change, and locksmith service, if you lock your keys inside your vehicle - hey, it happens.
No matter the crisis, the CFM Roadside Assistance Program is available 24 hours a day, seven days a week, and provides nationwide emergency roadside help to covered drivers. Help is now just a phone call away: 1-877-272-1202.
With the guidance of a local CNI Agent, drivers may enroll in Roadside Assistance Coverage and utilize the perks it provides, including these emergency "Just-In-Case" benefits that provide extra security: Expert Opinion (vehicle diagnosis with an ASE Certified Technician), Trip Routing, Hotel/Car Rental Discounts, and Hotel Selection Concierge Service.
Don't Forget To Pack The Essentials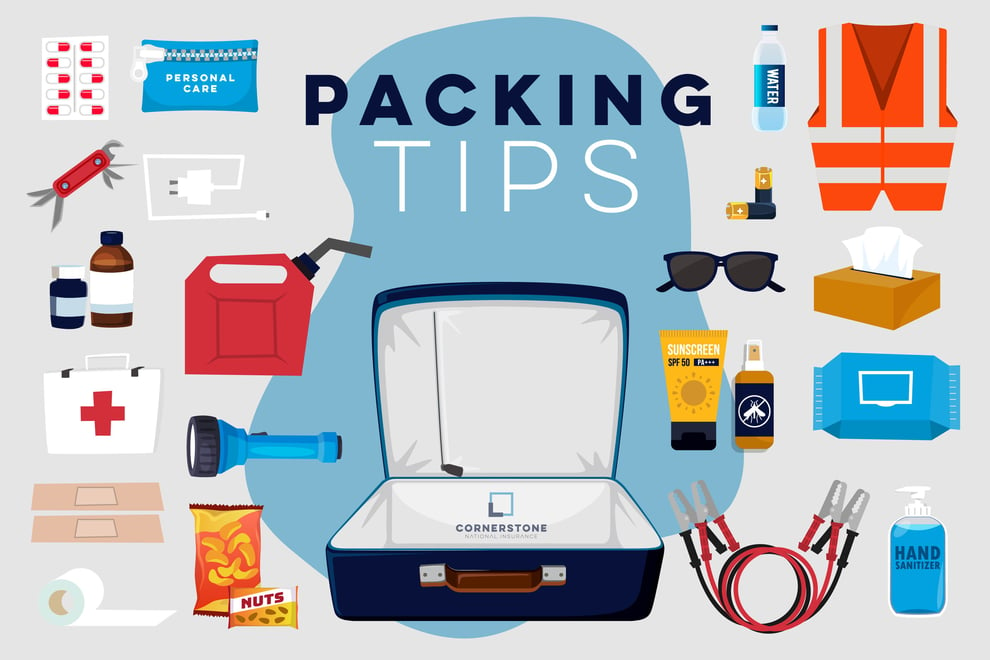 No one wants to have a roadside emergency, but it's always a possibility, especially when you're planning to travel hundreds of miles on a road trip. And while emergencies themselves may be unavoidable, being prepared for one isn't. Planning ahead and having some standard items packed away in your car can prevent a roadside setback from turning into a full-blown disaster.
Emergency Kit Essentials
Electronic Devices
Maps or GPS:

You will need these to avoid getting lost and explain where your vehicle is parked.
Cell Phone and Charger:

While you can survive on the road without a cell phone, having a phone can speed up the emergency assistance process. A charger will ensure that your cell phone always has power.
Batteries:

Pack spare batteries for your flashlight and any other electronic items you have.
Camera:

Tuck a disposable camera into your glove compartment. If you have an accident, photograph both vehicles and the surrounding scene before anything is moved.
Flashlight:

Flashlights are handy for night repairs. You can also use them to signal for help.
Car Maintenance
Spare Tire:

Before every road trip, check your spare tire to make sure it is properly inflated. Some cars do not come with spare tires. If your car is one of them, know what to do if your tire goes flat.
Jack:

Your spare tire is useless if you can't mount it onto your car. Check your jack when you check your tire and lubricate it if necessary.
Tire Gauge:

This helps you measure the amount of air in your tires so that you do not over-inflate them. Keep it in your glove compartment.
Tools:

Carrying a small toolbox containing items like screwdrivers, duct tape, Allen wrenches, and a hammer will help you repair not only your car but other vacation-related items.
Spare Headlight Bulbs:

You're planning to drive a long distance at night, so it's a good idea to bring spare bulbs with you.
Jumper Cables: Use these to jump-start your car or to help someone else.
Car Repair Guide: If you no longer have your car's original manual, purchase a repair guide for your car. Haynes and Chilton are the most popular repair guide publishers in the U.S.
Oil:

Bring a quart of motor oil in case you need to top up. Be sure you bring the same kind and weight of oil that is currently in your vehicle.
Gas Can:

If you

run out of gas

, you will need to bring gasoline to your car in a container. Be sure the gas can is clean and empty.

Rags or Paper Towels:

After you finish checking or repairing your car, you can use clean rags or paper towels to clean your hands.
Funnel:

Having a funnel makes it easier to top up your vehicle's fluid levels. Bring a plastic bag to hold the funnel after use.
Personal Safety
Emergency Reflector Triangle:

These are required in Europe but are good to have on any continent. Place the reflector several feet behind your vehicle to give other drivers a chance to see you.
Fire Extinguisher:

Keep it in an easily accessible spot.
Water:

Bottled water is a must-have emergency supply. Bring enough to get everyone in the family through a 24-hour period, plus extra for your radiator.
First Aid Kit:

You can purchase a prepackaged kit or create one from supplies you have at home.
Food:

Bring along nonperishable items such as beef jerky and granola bars. If you are traveling a long distance in a remote area, also bring canned food and a hand-cranked can opener. Don't forget utensils.
Pet Food:

If Fido is along for the ride, make sure you have food and water for your furry friend.
Matches:

Use these to light your candle or start a signal fire in a properly cleared area.
Candle:

A candle in a glass jar can help you see in the dark and can also keep the interior of your vehicle warm in cold weather. Don't light it while you are driving.
Comfortable Walking Shoes:

If you have to leave your vehicle, it is better to do so in shoes that can take some punishment.
Gloves:

To protect your hands in cold weather or when making repairs, pack a pair of gloves.
Emergency Contact List:

Having a cell phone is useless if you don't know whom to call. Don't rely on looking up numbers on the road in case you're in an area with weak data service.
Other Items
Pen and Paper:

If you need to leave a note on your windshield or give information to someone, you will be glad you brought a pen and paper along.
Mirror:

You can use a mirror to signal for help and to see around tricky corners inside your engine.
Book:

While you're waiting for a tow truck, it is nice to have something to do.
Pro Tip: You're a good driver, so you already have these items in your glovebox, duh. But for other readers (wink, wink), make sure you have your license and registration, ID, warranty documents, and insurance cards with you before setting out towards your destination. It never hurts to make copies of these important documents as well as snapping pictures of them to place in a secure folder in your cell phone.
Happy Travels!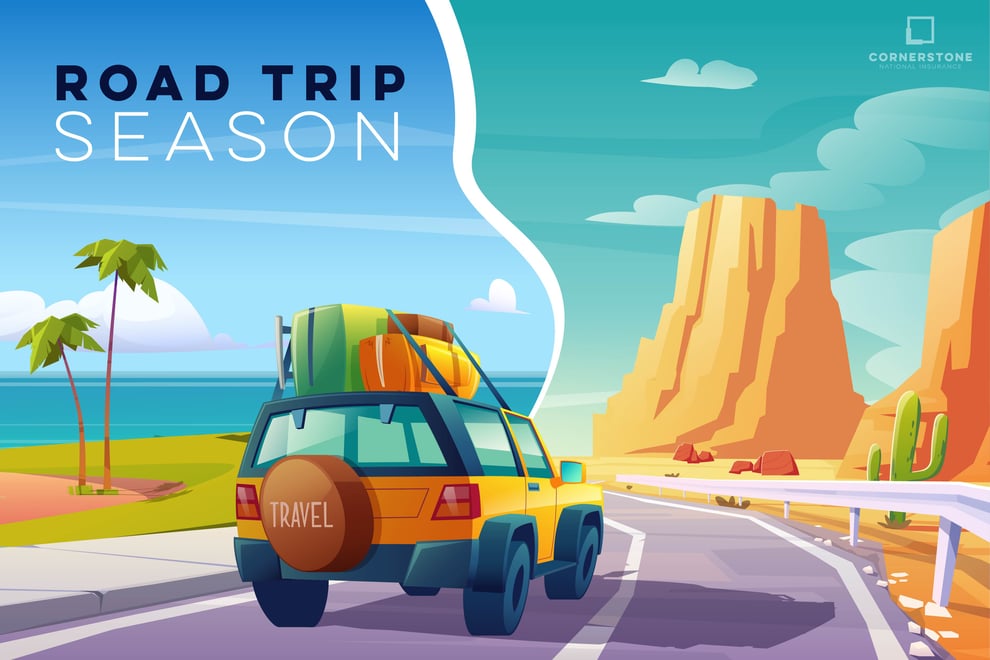 Road trippin' is one of the few forms of travel where it's all about the journey: the people, the stories, those moments which are hard to describe to someone who wasn't there. Enjoy your travels behind the wheel this summer and drive safe!
If you're looking for a refresher on your CNI Auto policy coverages, give your trusted local agent a call. Knowing you're adequately protected before you leave the house to go on any adventure is always a relief.