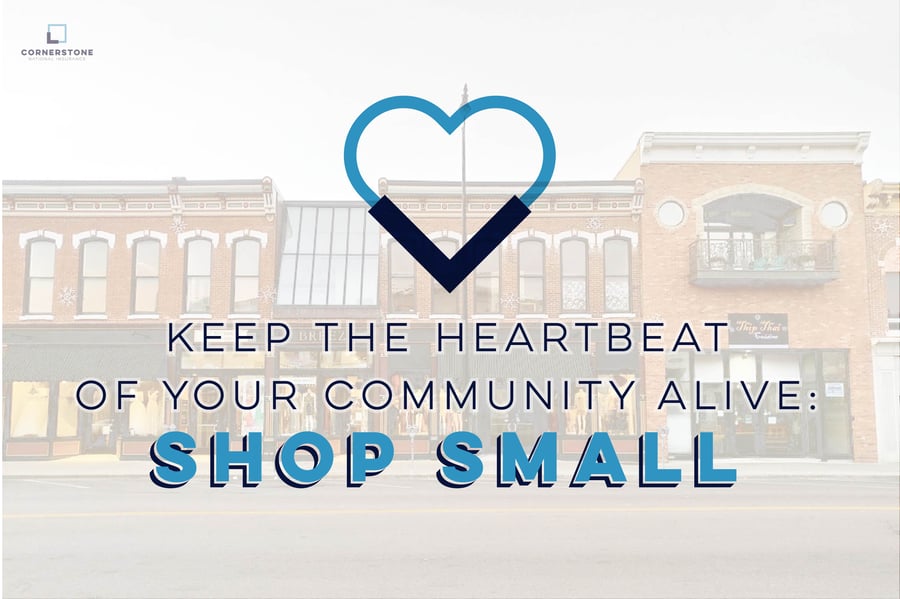 Imagine just for a moment what your town would look - and feel like - without its small businesses. They're quite literally the heartbeat of your community, providing infinite character and charm at every turn: The cozy coffee shop on the corner with the best espresso around; The novelty bookstore that carries all the classics; The karate studio all your siblings went to, and now your kids frequent; The antique shop that houses all the beautiful history and enchantment of the past you admire so much today; Your uncle's bar and grill that doesn't know an empty seat on Game Day. The now wildly successful hair salon your best friend from high school only ever dreamed of opening. Without a doubt, these local shops and the brave people who run them leave a lasting impression on your town and all who visit.
This holiday season, your decision to shop small and support the livelihood of your neighbors could mean the difference between your favorite local shop keeping its doors open another year or folding in this uncertain climate we're all doing our best to navigate. Being a small business entrepreneur is a daunting task in itself, requiring a bit of luck and a lot of risk-taking to keep ambition flowing. Throw in a global pandemic, labor shortages, and costly supply chain breakdown, and small business owners indeed do have the odds stacked against them.

According to a group of 523 small-business owners surveyed by American Express in October, 78% said that their holiday sales this year will likely determine whether they can stay afloat in 2022.
The good news: This holiday shopping season is expected to be one for the record books, with U.S. shoppers on track to spend more than $843 billion on holiday purchases. That's more than an 8.5% bump from 2020 in holiday spending, according to the National Retail Federation.
We encourage you to take a closer look at the importance of lending support to your community's small businesses this holiday season, and all year round.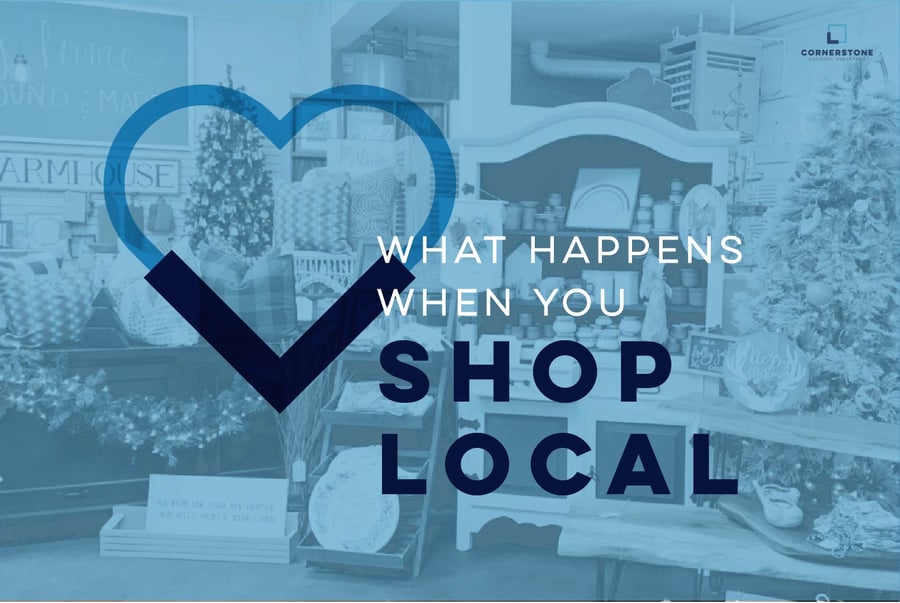 1. You ensure the majority of your hard-earned money stays in the local economy.
For every $100 you spend at locally owned businesses, $68 will stay in the community. What happens when you spend that same $100 at a national chain? Only $43 stays in the community. When you help circulate money back into your hometown, your city's small business sector will thrive and grow long-term.
2. You embrace what makes your community unique.
You wouldn't want your house to mirror everyone else's in town, so why would you like your community to look that way? When you support local shops and the creatives that operate them, you give those entrepreneurs the power to transform their business model and offer a wider variety of products that simply can't be found at the cookie-cutter chain stores. Their ongoing ingenuity will then spark the initiative from other aspiring small business owners to finally bring their dreams of opening a unique shop in your hometown to fruition. More kitschy shops mean a more vibrant, one-of-a-kind town for you and visitors to enjoy.
3. You create local jobs.
Let's face it - small business is, quite frankly, big business. According to a study by Michigan State University, small local businesses are the largest employers nationally, creating two out of every three new jobs, and employ 52 percent of the nation's employees. Since 2003, small businesses have added 5.1 million new jobs to the economy. So when you shop local, you create job stability for current working citizens in your community, as well as opening the door for more local hiring opportunities. And what better way to celebrate Christmas and the coming new year than with a reliable job that's close to home?
4. You show appreciation for area farmers and the environment.
Local farmers markets are found to have a positive effect on total agricultural sales across the country, according to EcoWatch, an environmental news outlet. Plus, the Center for Urban Education about Sustainable Agriculture (CUESA) advises that because food in the U.S. travels an average of 1,500 miles to get to your plate (requiring the use of large amounts of fossil fuels which causes air pollution and trash buildup from extra packaging) it's actually more environmentally friendly to shop for your food locally. So every time you support your local farmers market or grocer, the farmers will thank you. A bonus is being able to personally thank the farmer who grew your food, and isn't expressing gratitude what the holidays are all about?
5. You nurture community betterment.
Local business owners genuinely get to know you on a personal level. They connect with you through their products and life experiences shared with each transaction. Being able to form a bond with business leaders in your community opens the door to volunteer, committee, and fundraising opportunities that help local causes you're both passionate about. Plus, studies have shown that local businesses donate to community causes at more than twice the rate of chain stores.
6. You redirect your tax dollars to the right place.
Shopping in a local business district means less of your money going toward statewide infrastructure and maintenance and more funds available to beautify your tight-knit community. Also, spending locally instead of online ensures that the sales tax you pay with each purchase is reinvested where it belongs — in your hometown!
7. You create more choices for loyal local shoppers like you.
Locally owned businesses pick the items and products they sell based on what they know you like and want. So, the more you frequent local businesses and create the buying trends they need to establish their future product offerings off of, you'll see more variety each time you walk through their doors. Local businesses carry a wid­er array of unique products because they buy for their own individual markets - you simply don't get that level of personalization at a chain store.
8. You receive the best customer service.
Good customer service can be hard to find at the big chain stores during the holidays because retail employees are often stretched too thin in their work schedules. When you buy local, you experience the perk of seeing your salesperson face-to-face to help you with future orders or to customize an order you've already placed with them. If you have an issue with an order from a chain store, you'll likely be directed to an online portal or phone recording, warning you that hold times are "longer than usual," which is enough to make you want to throw your phone at the wall. And you don't need that kind of stress during the holidays. In addition, many local business owners have personal connections with each other, allowing them to deliver exclusive deals and recommendations for different needs you may have. And who doesn't love a good deal around the holidays when money might be tight?
9. You invest in entrepreneurship.
Creativity and entrepreneurship are the foundation of the American economy. By shopping at local businesses, you ensure your community's entrepreneurs have the funds and motivation to keep fueling new ventures and products specific to your town.
10. You promote your community as a destination for visitors.
When you shop locally and post about your buys on social media, you provide your community with free advertising to attract the masses. Plus, your small business friends may admit that your shares of their products and services mean the world to them. The exposure you're giving them, and your community stretches far beyond the set radius of your town. The more visitors you help attract, = more money circulated back into your local economy.
Spreading Local Love: Four Columbia Small Businesses We Can't Get Enough Of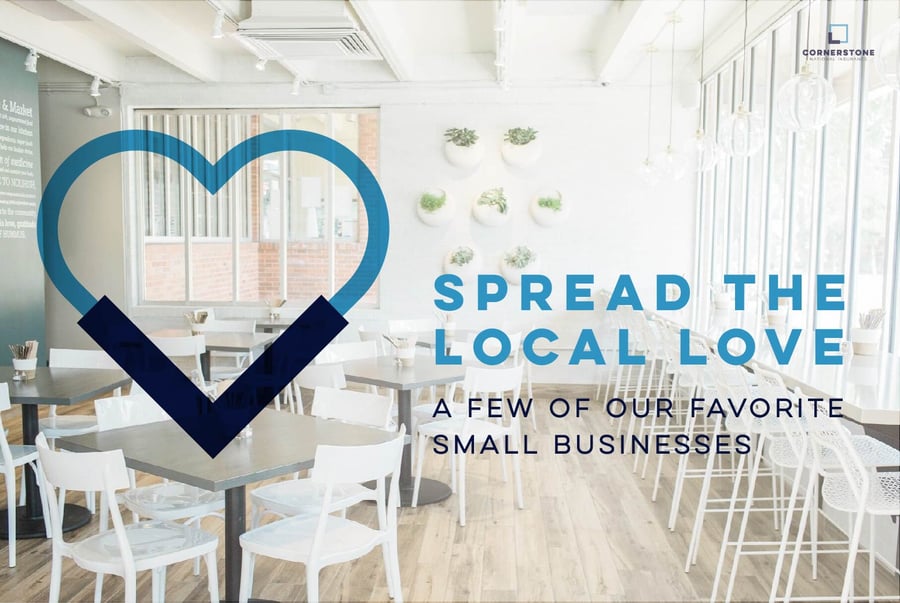 For many years, we didn't have an office space that felt like home. Our former CNI headquarters was in an oversized, outdated commercial building on the outskirts of town, leaving our team feeling disconnected from the heart of our Columbia community. Then, a couple of years ago, we relocated to a new office building in the vibrant downtown area of Columbia. The City welcomed us with open arms in our freshly renovated, much cozier office space converted within an old bike repair shop. Since moving day, it's been a fun experience for our staff to frequent the local small businesses and lend our support as a company to the charitable missions fueling our little big town's wholesome spirit. Because of the booming small business sector, numerous philanthropic opportunities, top-notch schools, and other real estate factors, Columbia was named among the "50 Best Places To Live In The US".
There's a long list of small businesses we support as a company that could use your support too. Here are four well-known and loved local businesses in Columbia to consider for your year-round shopping excursions.
Tin Roof Monogram & Gift
A small eclectic gift boutique offering a wide variety of unique finds ranging from home décor to baby items, girlfriend gifts, and more, the Tin Roof Monogram & Gift opened its doors three years ago in a small 500 square-foot space. Since then, this small biz has moved into a much roomier 1,700 square-foot shop in beautiful Columbia, MO.
Tin Roof's passionate owner, Nicole Morris, states that big dreams and a love for gifting are the true foundation of her small business. As it continues to grow, Nicole and her team will never stop striving to provide area shoppers the best customer service experience.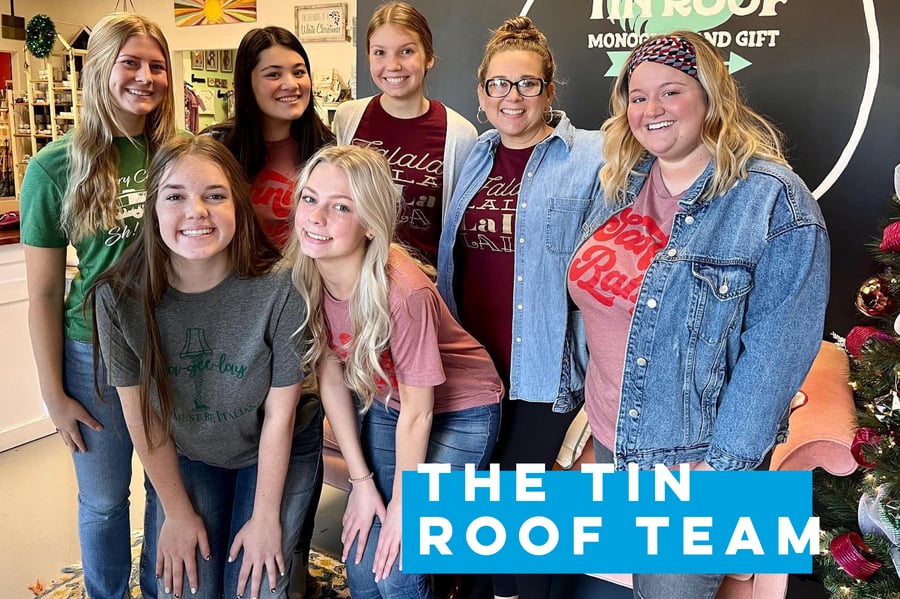 Follow along with Nicole and her shop's growing list of diverse goodies on Tin Roof's website or social media pages.
Element Cryotherapy
Cryotherapy is the science of exposing the body to subzero temperatures in order to encourage multiple physical + mental health benefits. Element Cryotherapy offers customers in the Columbia area a relaxing place to heal and start their personalized long-term wellness journey. And during these times - especially around the holidays - who couldn't benefit from a little self-care?
Their non-invasive and painless cold therapy improves your wellbeing through decreased inflammation, increased performance, rapid muscle recovery, mood/mental clarity, weight loss, and pain relief. Other benefits of becoming an Element Cryotherapy customer include a boosted metabolism (especially good to have during the holiday season), beauty and anti-aging practices, and stress relief.
The power couple behind this rewarding small business is Matt and Claire Taylor. After Claire was diagnosed with MS, the duo took a proactive approach to manage her symptoms in the most safe, holistic way possible. After much research, they found that medical studies revealed relief through Cryotherapy. If this form of healing could help MS warriors like Claire, the two considered how many others it could benefit in cultivating a happier, healthier lifestyle. And so their business was born.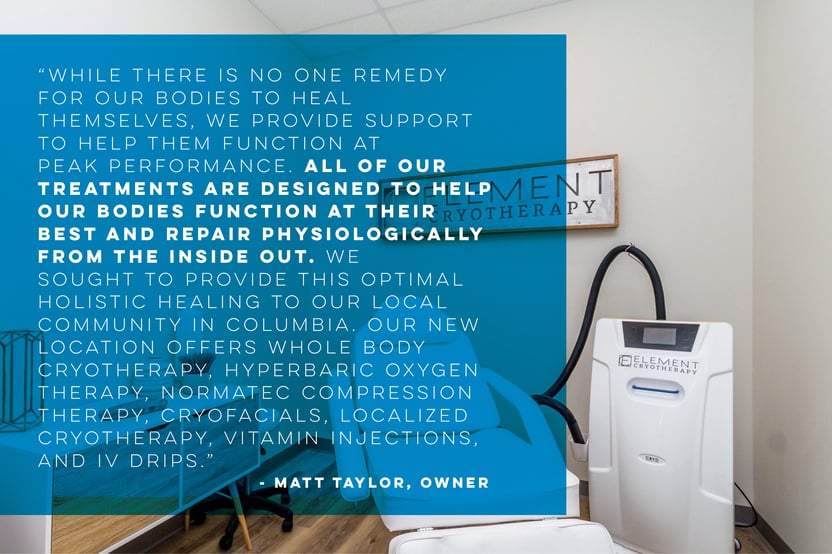 If getting well is on your New Year's Resolutions list, check out Element Cryotherapy's website and social media platforms to begin your journey.
Nourish Cafe & Market
Nourish Cafe & Market, located in The District, is an organic, locally sourced, nutrient-rich restaurant. The Nourish team is obsessed with high-quality ingredients, superfoods, and creating delicious recipes that provide each customer with a healthier meal alternative that help their bodies thrive. The Cafe even composts their product waste to lessen their carbon footprint on the environment.
Customers making the transition to a more health-conscious mindset keeps Nourish Cafe busy, but during the holiday season, it's especially important to support this small biz and make overall wellness a priority.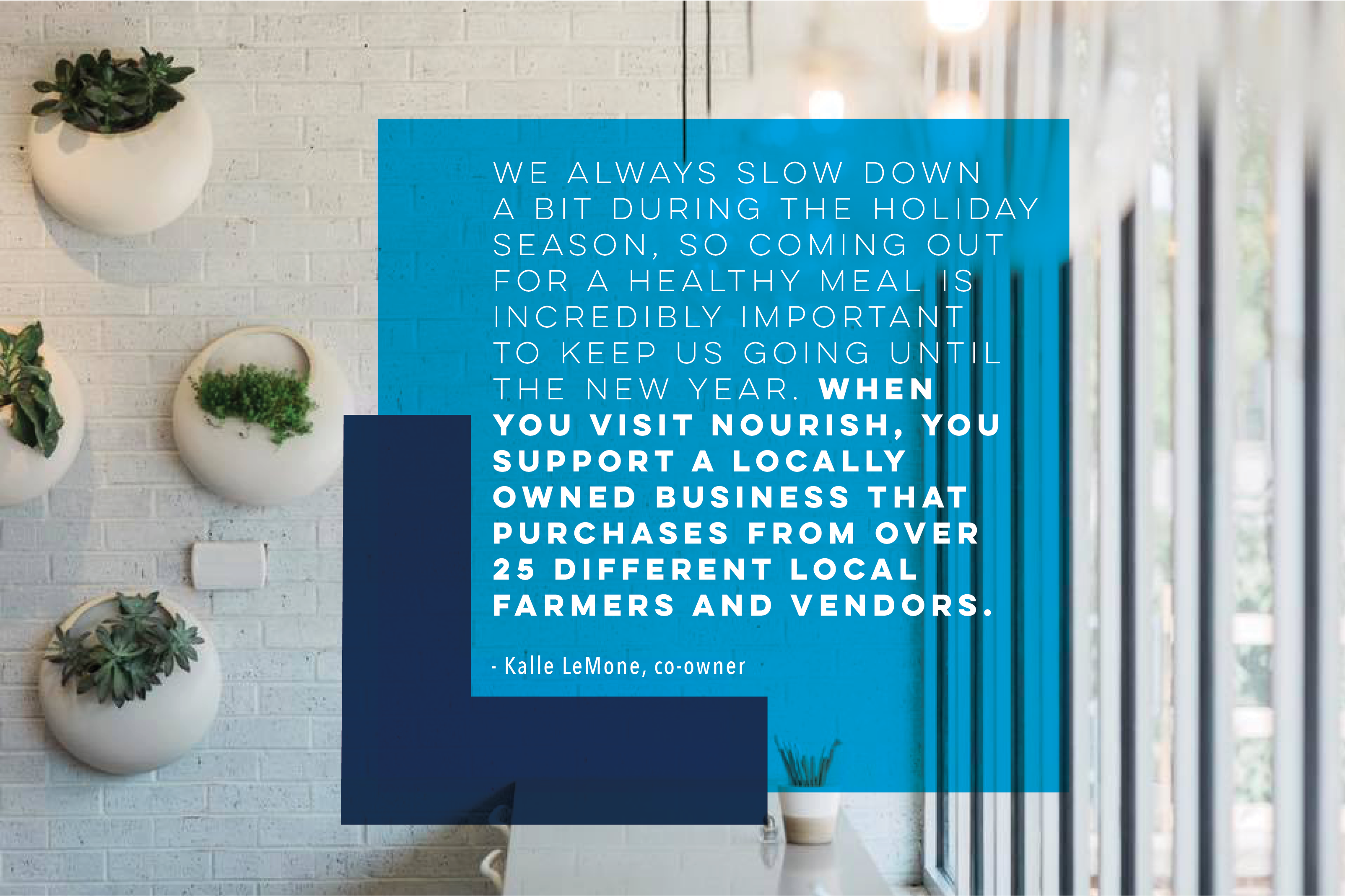 "An easy way to feel better quickly is eating a nutrient-dense, organic, locally sourced meal that truly nourishes your body!"
Follow along with Nourish Cafe's growing vendor list and menu options online and through their social media platforms.
Plume
A gathering place for nearly 100 local artists and creative designers, Plume offers a wide variety of gifts and homemade baked goods for the community to enjoy. From handmade gifts, jewelry, and decor to a full baby boutique and bake shop, Plume has a little bit of everything for everyone. One of the most attractive pieces of this small business's strategy is the inclusion and representation of so many featured local artists.
We asked Plume's Head Cheerleader + Storyteller + Shop Girl, Kelly, what it means to have the ongoing support of her loyal customer-base, and she couldn't express her gratitude enough.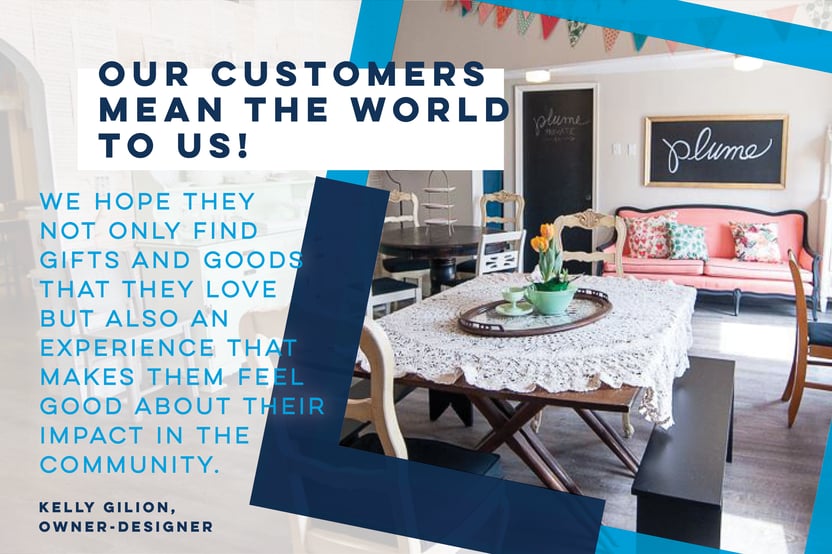 Shopping small at Plume not only means supporting my small business but so many others, too, because we source our goods primarily from local makers and other small businesses. Studies show that dollars spent at locally owned small businesses, like Plume, are poured back into the local community at a higher percentage than those spent at big-box chains.
If you'd like to shop Plume's gift selection this holiday season, check out the links to their website and social media platforms below.
To Lift Up Your Favorite Small Businesses, You Must Use Your Voice
When you have a positive experience at a local small business, get vocal on social media and share it with your followers. The reach we all have on our social media accounts is vast, and your small business friends need voices like yours to gain more followers and loyal customers like you. Share their business page. Leave them a kind review. Tag them in your posts. Give them a shout-out on your story. The best form of advertising is word-of-mouth, after all.
Pro Tip: This holiday season, purchase gift certificates from your favorite small businesses and deal them out to your family and friends. This approach will allow your crowd to get exactly what they want at your favorite shops. When your friends go into that business to cash in on their gift card, they'll discover exactly why you love that shop so much and likely end up falling for it too.
Put Your Money Where Your Home Is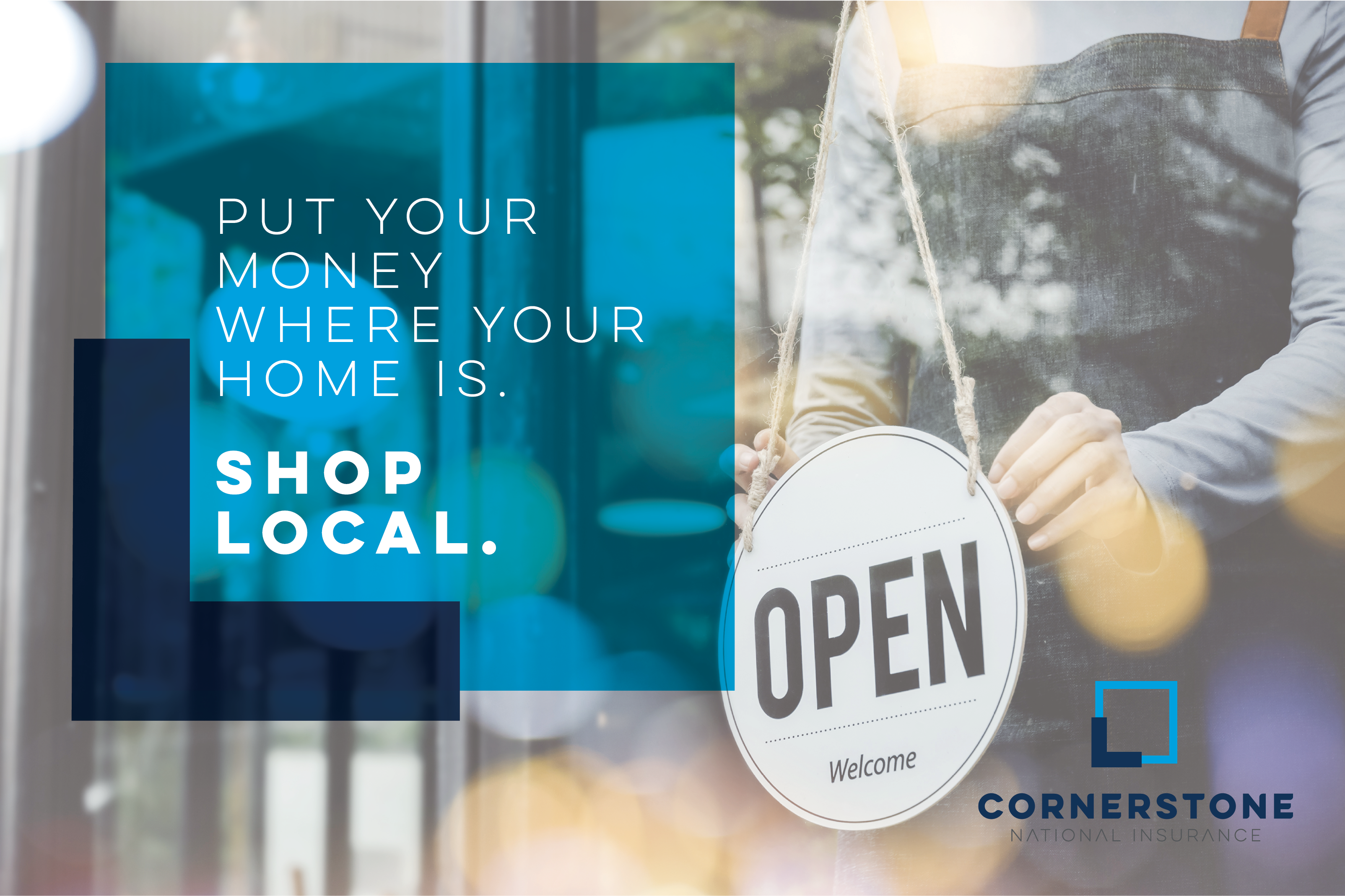 While there's no arguing that online shopping can be convenient, what "warm and fuzzy" feeling do you get from that type of transaction? Does easiness trump the emotional benefits you'd feel from contributing to someone's livelihood by shopping local? The ability we all have to support our hometown's brothers and sisters, aunts and uncles, cousins, neighbors, friends — all the people who make our community a wonderful place to live — will always be worth the collective time and effort in our book.
*All images specific to each small business spotlight in this blog are courtesy of - and belong to - those businesses.